IntelliNAS Clustered Failover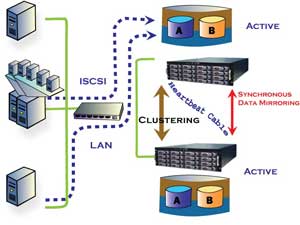 Clustered Failover Overview
Clustered Failover is implemented as add-on licenses to 3GenNAS operating systems, the 6-year-old 3Gen operating system with powerful features such as WORM NAS, snapshot and file / block level remote mirroring. Clustered Failover software runs on the full range of IntelliNAS V9000 series network storage product line that provides high performance and extremely reliable SAN storage systems. This flexibility allows customers to buy the amount of storage that fits their business needs, whether it is a few hundred gigabytes or hundreds of petabytes of data. Clustered Failover provides automatic and manual failover. It is designed to constantly monitor the health of clustered V9000 storage systems. If a system detects a catastrophic hardware failure, it is designed to automatically initiate a failover operation to transfer the data service to its partner V9000 storage systems. Once the failover operation is complete, the takeover V9000 storage system will resume the data service for the failed V9000 storage system. This will ensure high data availability to all mission critical applications. In addition, administrator can initiate failover for planned system maintenance activities while avoiding impact to end users and critical applications.